Reef Balls As Submerged Breakwaters or for Erosion Control
Reef Balls have be used as submerged breakwaters to protect a beach from erosion or even to build up a beach that has already eroded. They have also been used in a variety of other erosion control applications using Reef Balls such as red mangrove "pots" for shoreline stabilization. Shorelines have been stabilized using Reef Balls as a near shore breakwater or to grow oysters to create a protective near shore oyster bar. However, when using reef balls for any type of erosion control application, clients should consider specific engineering to help avoid unexpected results.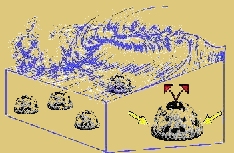 In order to obtain molds or Reef Balls from The Reef Ball Foundation or an authorized Reef Ball Contractor we'll ask you for your exact plans in regards to erosion control and your design must pass our minimum design specifications for erosion control projects (this usually means anchors are required, and the project must have adequate crest width, correct heights relative to tide lines, and proper spacing), The Reef Beach Company no longer provides engineering and design services, but we can offer support to your chosen engineers or site designers of our experiances in these types of projects. Reef Ball Foundation/Reef Beach Division can provide mold licensing for you to build your own breakwater or we can refer you to licensed contractors that can build Reef Balls for you. Note that there are often specific mold changes that must be incorporated into Reef Ball molds before casting erosion control Reef Balls (such as appropriate anchoring holes and heavier than normal modules) so please consult us in advance of any construction if you already have molds. Not all Reef Ball Foundation authorized contractors are trained for erosion control projects so check with us before selecting a contractor for your project.

We hope that using Reef Balls for submerged breakwaters will help your project to avoid or substantially reduce environmentally damaging beach "renourishment" projects. In addition to solving your erosion problems, you will enjoy the environmental benefits of using Reef Balls as your breakwater will become a vibrant reef ecosystem. Reef Balls will function much like any other natural reef in similar waters, providing fishery habitat, possibly snorkeling opportunities, and in coral reef areas you can even create a living coral reef system. Many of our clients have even used Reef Balls as mitigation for activities such as building a dock or sanding pumping....now isn't that a switch?
Reef Balls are a modular system and it is possible to move or removed them in case that is needed, but because a living reef system will develop on the Reef Balls one should consider Reef Balls as a permanent feature.
If you would like us to do a simple desktop analysis to give you a general ideal if Reef Balls are suitable for your application, you should gather as much site specific data as you can, then contact us. See the checklist linked below then email us what data you have to reefball@reefball.com. Then contact us for an analysis. (Checklist of types of data we like to see). Remember, we can only provide you with product application advise, you should seek independent engineering advice as required by your local laws before proceeding with any erosion control project.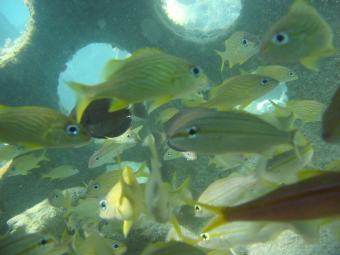 Fish life is abundant in and around Reef Balls since they are designed specifically to create marine habitat. Over 1/2 a million Reef Balls have been used in over 3,500 projects in 43 countries as designed artificial reef habitat.
Some typical design characteristics of Reef Balls

The number of rows required or crest widths are similar to traditional submerged breakwaters (usually 3-7 rows of Reef Balls) and is determined by the type of wave climate your project faces along with the tide range of your site combined with the amount of attenution of waves you need.
The size of Reef Balls you select are determined by the depth where you place the Reef Balls. In general for erosion control, we like to place the Reef Balls at a crest height just below the calcifying biological tide line (highest point where corals, and calcifying marine life lays down material) [sometimes higher when it is desired for the Reef Balls to be exposed at low tides such as for oyster projects]. Because Reef Balls are availabe in 11 sizes, the crest can be built to a uniform level. However, the largest Reef Balls are about 8 feet tall and that limits the depths where Reef Balls will funcation well for erosion control to a maximum of about 9 feet (3 meters) water depth depending upon the tide range. The deeper the Reef Balls must be placed, the larger sized Reef Balls you must use and the costs of the project generally gets more expensive. The slope of your beach along with your desired distance from shore will help determine your best options.

"An important factor not only for enviromental reason but in reducing erosion is the overall permeability of the breakwater, which will be much greater for a Reef Ball breakwater than a rock breakwater. That permeability prevents the "ponding" effect that can occur behind a breakwater, where the overtopping of waves can create an increased water level behind the breakwater, causing an accelerated return flow that can scour around the ends of the breakwater, as well as washing sand out from landward of the
break water" -Dr Lee Harris
Therefore, when designed Reef Balls for this application gaps which are traditionally used in rock breakwaters are NOT needed (but can be used non-parallel to the waves for boating or swimming access).
Anchoring of some form is almost always needed for erosion control projects. Contact us for suitable anchoring systems that fit the characteristics of your project's seafloor. Commonly, fiberglass rebar drilled to hard bottom or battered pilings jetted into sand are used.
Scroll down the page to your specific erosion control project type or click on the following list to automatically jump down the page.
---
Submerged Breakwater Application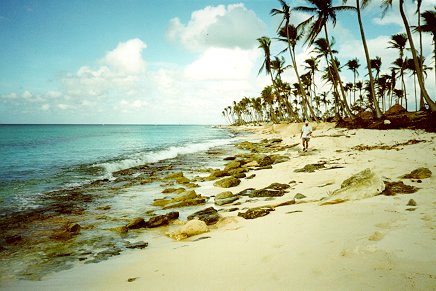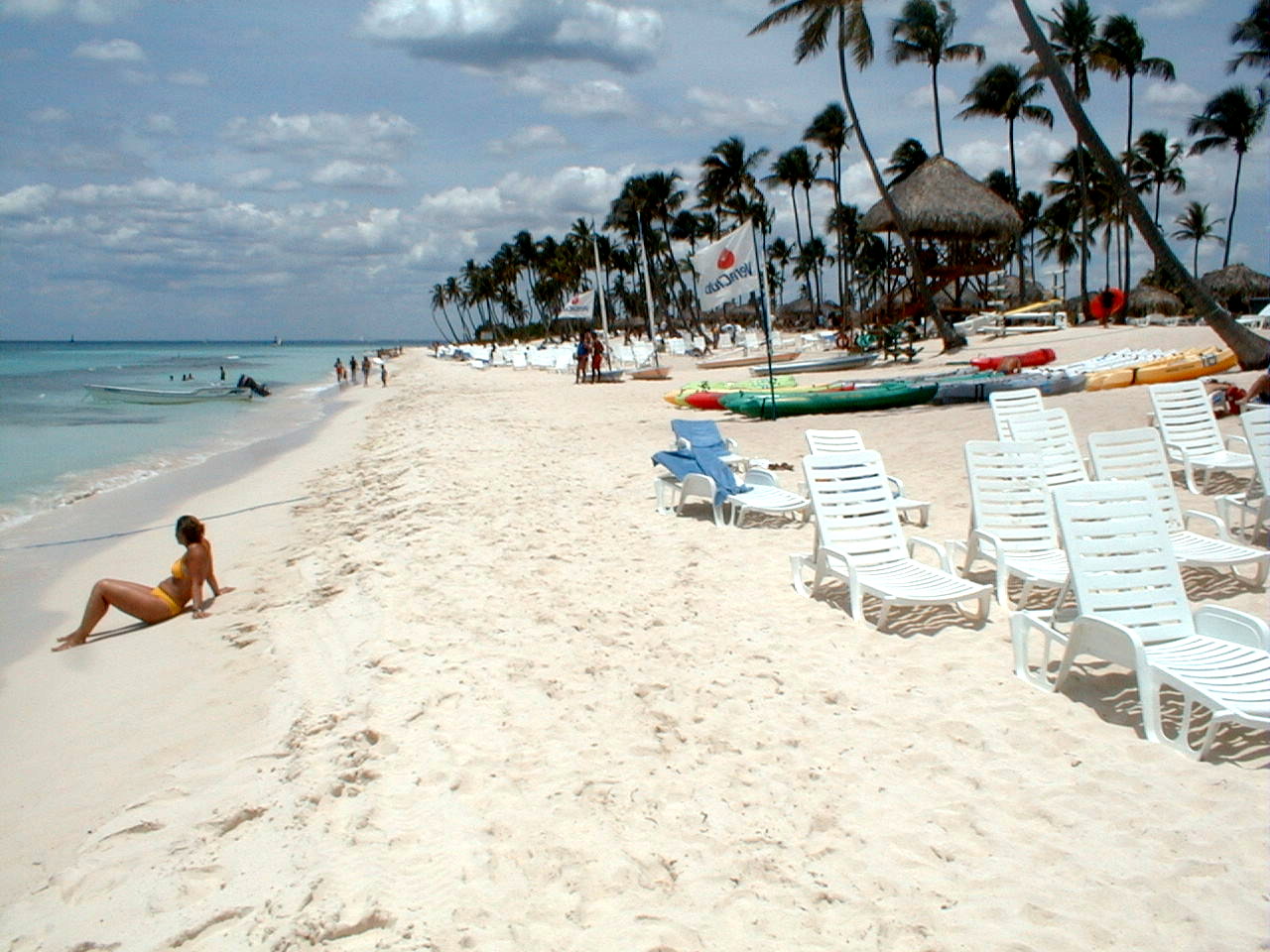 Increased beach width in the Dominican Republic Project from 1998 to 2001 at center of project - looking west, this was the result of natural accretion of sand by the Reef Ball submerged breakwater and not a sand renourishment project.
To fully understand the full scope of Reef Balls as submerged breakwaters, it is best to study carefully our prior projects. A project that does the best at demonstrating all the different options is the Antigua Maiden Island Submerged Breakwater and simultaneous reef restoration project. Go to http://www.reefball.com/map/antiguascience/antiguapressrelease.htm and spend some time looking at the areas that are of the most interest for your project. There are detailed sections on the engineering, anchoring, construction, deployment, coral propagation, coral rescue, coral transplant, mangrove planting and other components of this particular submerged breakwater system.
There has been a great deal of experience in using Reef Balls for submerged breakwaters over a 15 year period. Dr. Lee Harris of the Florida Institute of Technology and a leading expert in submerged breakwater technologies has overseen many of these projects.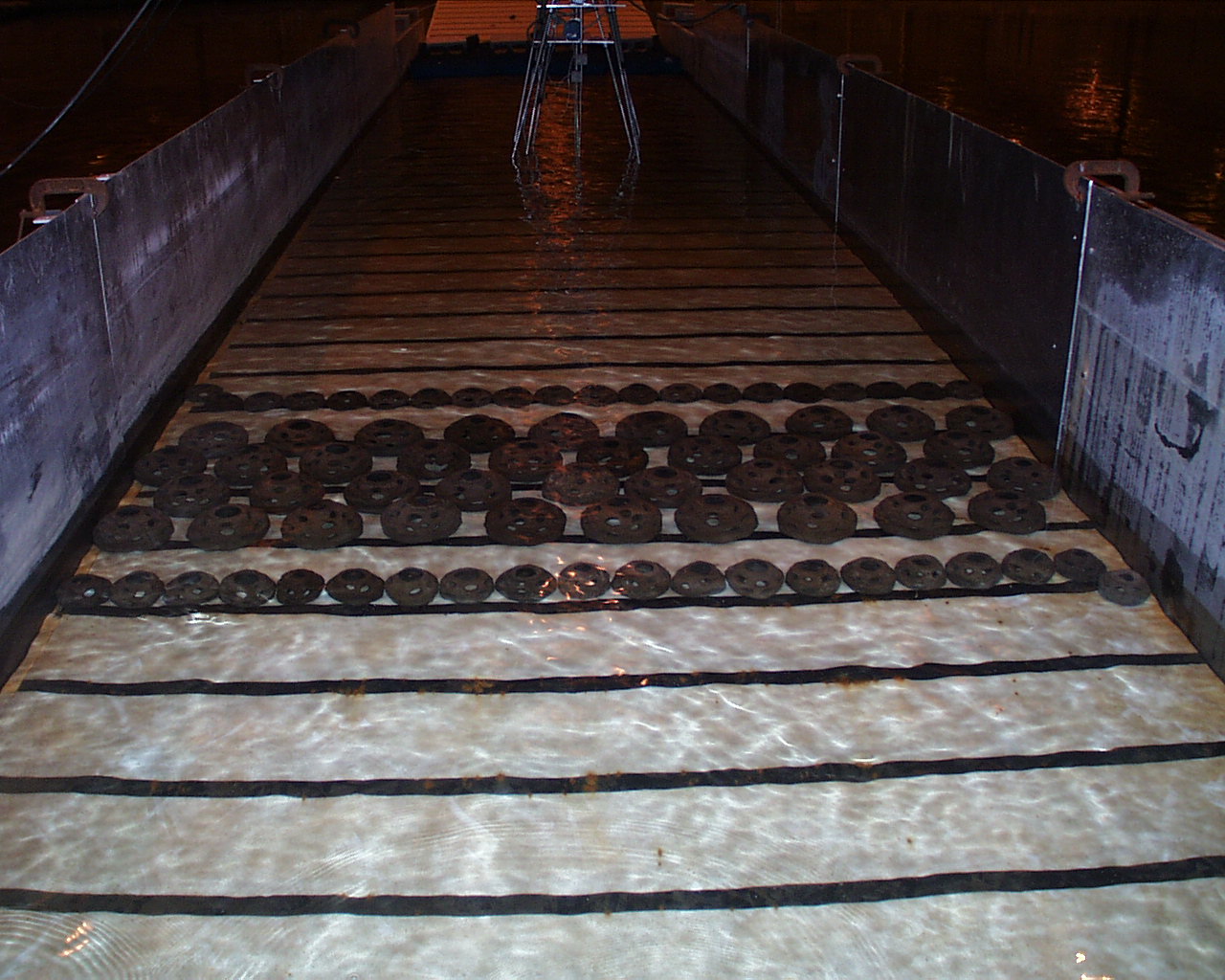 The basic premise of Reef Ball submerged breakwaters is to mimic natural reef systems and their ability to attenuate waves so that (beach) erosion is managed by natural like processes. The exact amount of attenuation is usually engineered for each project and is controlled by depth, wave climate, number of rows of Reef Balls, spacing of Reef Balls, etc. There have been very extensive wave tank studies to allow us to custom design the desired wave attenuation for a specific project.
(Above Right: Army Corp of Engineers Wave Tank in Vicksburg, Mississippi performing complex modeling studies for the Reef Ball submerged breakwater in Miami. Sample data here in Excel format)
In our most recent projects, (Miami and Antigua) we developed a much broader range of anchoring technologies which for the first time allows the use of Reef Balls as submerged breakwaters on a wider variety of bottom types...including deep sand bottoms. Essentially, we now have technology that not only stops lateral movement of Reef Balls during storm events, but also prevents settlement into the sand (which has been one of the major obstacles facing submerged breakwater designers in the past.) We have also develop a much larger range of Reef Ball sizes to handle beaches that have steeper slopes. Even so, Reef Balls as submerged breakwaters may be too costly for areas that require the submerged breakwater to be in deeper than 3 meters.
After studying the grandiose Antigua project, you will probably want to review more information from our prior projects below.
These are not presented in any particular order, but you will find the farther back in time you go, the less the product was developed technically.
Antigua, Maiden Island (1200 Units) [Left]
All of the following reports give excellent, non-censored views into using Reef Balls as submerged breakwaters. The Army Corp Technical Paper is the best single source for understanding the basic concepts. Other reports are either site specific or proposals for new sites...some with very unique problems like "Proposal for Reef Ball Submerged Breakwater" that show some of the design variations possible with Reef Ball submerged breakwater technology. Obviously, your site will require some custom engineering...but this will help you understand what is involved in a project.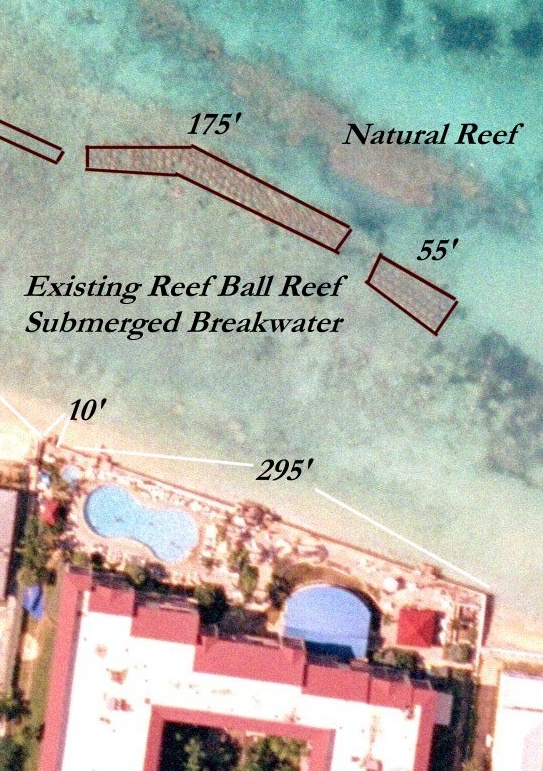 Marriott Hotel, Grand Cayman Island. (200 units)
[Right]
---
Additional Submerged Breakwater Projects:
Canola Hilton, Dominican Republic (under construction)
Iberostar Hotel, Dominican Republic
Gran Dominicus Hotel, Dominican Republic
If you are ready to consider a submerged breakwater project, please visit our submerged breakwater brochure page for process details and then contact us "to get the ball rolling."
---
Reef Balls as Wave Fences for Marinas
Square Reef Balls (for stacking) or standard Reef Balls if depths are shallow can be used to create wave fences around marinas to help calm wave action inside a marina. By using a "double walled" Reef Ball instead of a standard vertical or horizontal slat wave fence, you can create fish habitat and have a fence that does not require maintenance or regular replacement. There are often permitting advantages to using environmentally accepted Reef Balls instead of wooden structures that can cause dangerous debris in the ocean as they deteriorate. Reef Balls are often used in front of sea walls to help disperse reflective wave energy and to help mitigate for the shoreline habitat loss when a seawall is built. The basic difference between a Reef Ball wave fence and a Reef Ball submerged breakwater is that the tops of Reef Balls are emergent from the sea level to provide effective attenuation with a single minimal rows of Reef Balls. Because of this, the top of Reef Balls are often modified in these projects to accept, for example red mangrove seedlings (propogules) or to be sloped in a manner to avoid injury of a person falling into the water.
Additional Wave Fence/Marina Projects:
---
Reef Balls to create Oyster Bars for Shoreline Stabilization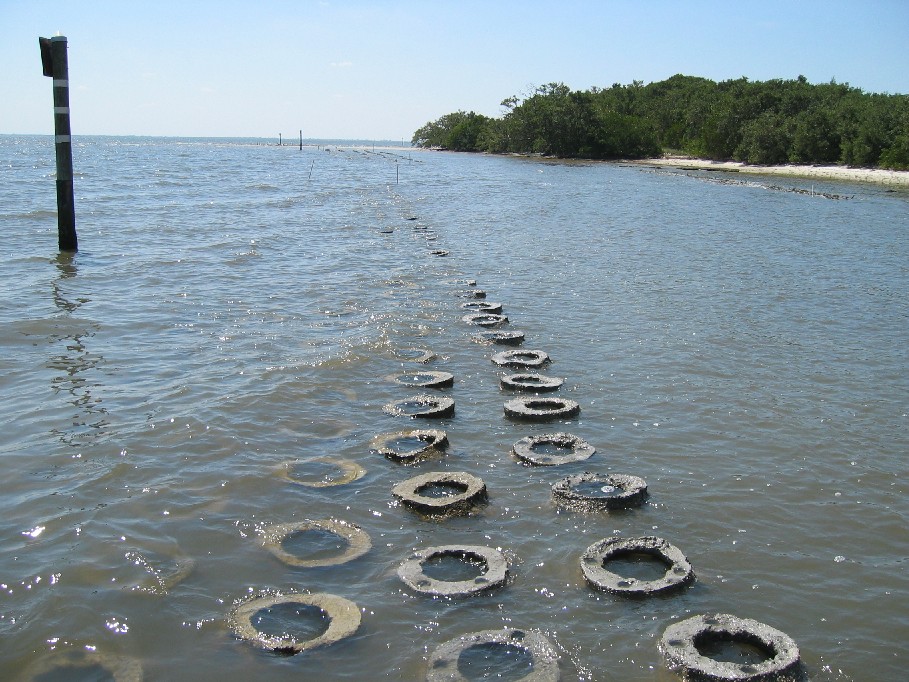 Newly Installed Oyster Bar (before coverage by oysters)
In much the same way as submerged breakwaters can create living coral reefs in tropical waters, Reef Balls can be used to create oyster bars where oysters are common. A big advantage of oysters is that they will add a great deal of size to each Reef Ball in just a few years creating a better, and natural looking breakwater. Oysters have a large filter feeding capacity and can improve water quality too. Smaller sized Reef Balls are used in bays and protected areas where wave climates are not that great or where the slope is very gentle into the water as pictured above. In moderate climates, oyster reefs are best built inter-tidal sticking out of the water a low tide. They can be built deeper, but oyster growth is slower. If the climate is very cold, it is better to keep the units below the low water mark for protection from winter freezing. Smaller sized Reef Balls are very cost effective and some sizes can even be deployed by hand.
Additional Oyster Bar Shoreline Stabilization Projects:
Bayshore Made Beautiful Project of Tampa Bay Watch
Tampa Bay Estuary Program - Bayshore Boulevard Reef Installation
Ballast Point, Tampa: Oyster Breakwater Project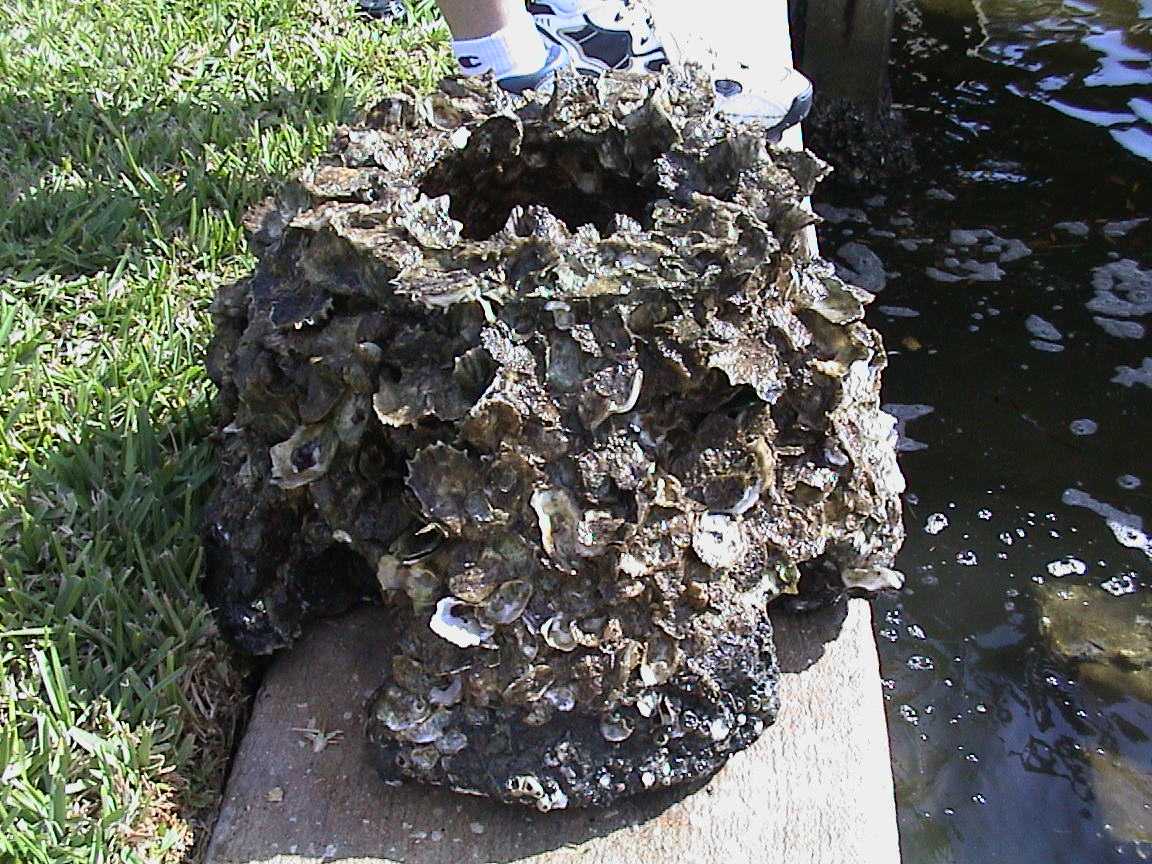 Reef Ball Covered in Oysters in just one year
---
Reef Balls as Red Mangrove planters for Shoreline Stabilization [See WWW.MANGROVESOLUTIONS.COM for full details of high energy planting system]
Red Mangroves are often planted along shorelines because they make excellent fishery habitats and can help stabilize a shoreline from erosion. However, it is difficult to impossible to plant red mangrove seedlings in areas with a firm bottom. Even with softer bottoms, smaller plants my be difficult to hold in place against wave forces before they establish themselves enough to survive. Therefore, Reef Balls can be used as the "pot" into which red mangroves are planted. They can be arranged much like a submerged breakwater to immediately begin protecting the shoreline while waiting for even better stabilization after the red mangroves start sending out protective prop roots. Over time, the burlap bag will bio-degrade and the Reef Ball will be left as additional fish habitat inside the "walking" roots of the mangroves. One can certainly use common methods to plant red mangroves if conditions are right but Reef Balls offer a wider range of possible planting sites and also avoids leaving plastic PVC pipes in the environment.
Additional Red Mangrove Shoreline Stabilization Projects:
Mangrove Planting Project on Maiden Island, Antigua
UNDER CONSTRUCTION>>>photo needed

Reef Ball Red Mangrove "Planter" (Lined with burlap to retain soil and with and optional fiberglass rebar anchoring rod pictured above).
(Available in 10 sizes).